What Tiles Should I Use for My Bathroom?
Today we will talk about bathroom tiles. What kind of tiles should I use for the bathroom? This is one of the most common questions we receive and of course this is a good question because most of the bathroom surfaces are covered with tiles. Basically, there are three things you want to think about when choosing bathroom tiles. One of them is the size and shape of the tile, and most have different sizes and shapes. The second thing is the texture of the tile. Real physical texture; how does it feel when touched? What will the feeling be under my feet? What will be the feeling if you touch them on the wall? Finally, color and pattern. Very expressive or clean tiles. These are three things that definitely need to be considered. As local builders in Eastbourne, we also have the contacts in the area to help you achieve your dreams for a reasonable price.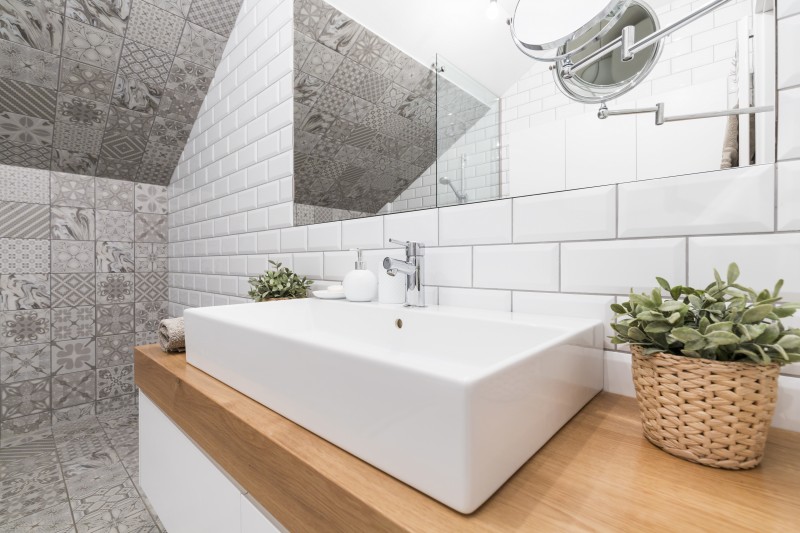 tiles for the bathroom glaze
As for texture, of course, we are talking about a floor tile that will be safe and non-slip. One of the things you can learn about tiles is the slip factor for a specific tile. We often look at these slip factors to determine if a bathroom tile will be safe in wet conditions. Some are only suitable for dry rooms and can be dangerous when in contact with water. This is especially important when choosing tiles for a shower tray with a linear drain.
There are basically three types of tiles that are most popular when designing and renovating a bathroom. These are glazed wall tiles that always have glazed surfaces. Gres, which is glazed on the surface, and also has a colored tile body, and then it is a natural stone, which of course is natural. There are also clay, concrete and glass tiles that are not used so often. Glass is often an extra touch because it can be delicate when attaching shower doors and fittings. Concrete tile is becoming increasingly popular, but is still not in the top three.
Again, one of the questions we get is what should I use? Should I use natural stone? Should I use stoneware? There are some significant differences between these three tiles. Today, most people do not use natural stone, at least on the floor or in the shower. More often, glaze or stoneware tiles are used, which "look" like natural stone but their maintenance and maintenance is not as demanding as natural stone. Glaze tiles and porcelain tiles are glazed on the surface or have a colored structure and are easy to clean. They do not need to be impregnated, where natural stone usually needs to be impregnated. There are many tiles that look like natural stone.
bathroom tiles tiles
Another feature of tiles is their strength. Gres tiles will have a lower damage rate than glaze. Basically, porcelain stoneware tiles will be harder to break. in old bathrooms, tiled tiles were generally used and terracotta tiles on the floor, but these are tiles with a high damage rate. However, in public buildings such as a hospital or even a store, you would absolutely choose a tile made of technical stoneware, because it will be a tile that is more difficult to damage and will withstand more movement and load. However, people choose stoneware tiles for another feature, which is that the edges can be, as we call it, rectified. This means that the edges are cut straight and down to the millimeter, so you can make a joint with a width of 1 mm. Glazed tiles usually have a rounded edge, whereas gres tiles do not. Thanks to this, you can choose even very large tiles and enjoy 1 mm joint. Currently, rectified glazed tiles can be ordered on the market, but the sharp edges are very fragile and easily damaged.
Porcelain tiles are basically in two varieties; technical and glazed porcelain tiles. Among the most important properties that glazed gres are characterized by are high hardness, as well as abrasion and dirt resistance. Unfortunately, it is less resistant to impact. In this case, possible glaze chipping can reveal the core of such a tile, which is made of a material most often differing in structure and color from the glazed gres tile layer.
mosaic tiles for the bathroom
These are the three most popular types of tiles chosen for the bathroom. It is glaze, stoneware and natural stone. As I said, most people choose glaze for walls and gres for floors, however, gres tiles are produced in a full range of textures and patterns that gres tiles are also chosen for walls.
The last element that you need to consider when choosing a bathroom tile is the price. You can now buy good-quality porcelain stoneware tiles in the range PLN 60-120 per m2. The cheapest will be glazed tiles, more expensive rectified tiles, stoneware and the most expensive are natural stone.
Browse our photo gallery to see our most popular bathroom arrangements. For additional information, call or make an appointment. We are highly rated by our clients, you can learn about it from our clients references.
Come to a team of builders in Eastbourne you can trust to get any job done in a creative, but cost effective manner. ProForYou is used to dealing with Council regulations too and will ensure that all necessary permissions are obtained and building inspectors are kept in the loop.
---