Renovations of commercial premises
Just like with our flats, commercial premises and all public utility buildings gradually lose their appearance over time, their walls and ceilings get dirty, and the devices decapitalize. Due to continuous progress, they also lose their functionality, become obsolete and no longer fit the new reality, in which customers expect a different quality of services at a much higher level. Whether you like it or not, you should follow the progress and the requirements of the present day and adapt your activities to the changing realities in order to be at the forefront and not to fall behind the competition. The time has come for, not so much simple painting, as for a complete home renovation of the premises, with a completely new interior finish and a complete replacement of its equipment and furniture. Performing such a comprehensive renovation requires the contractor to have appropriate technical facilities, knowledge, skills and trained staff. Our construction company, Juwi Remonty, operating in Wrocław and its vicinity, has everything that a professional renovation team should have. Operating for many years in the difficult construction market, we also have the necessary experience, thanks to which we can very quickly execute all orders while ensuring high quality and low prices.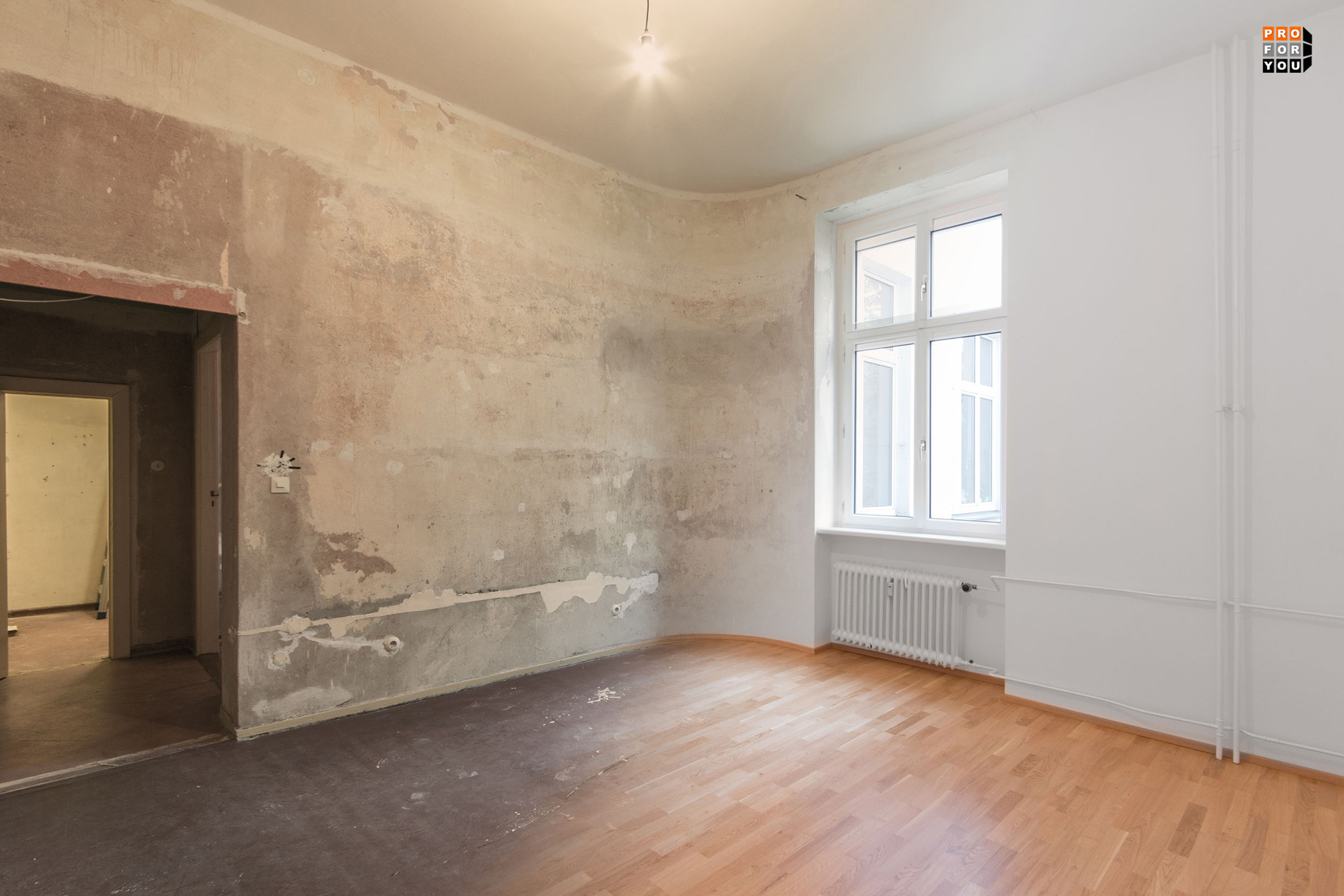 What is the renovation of the premises and finishing of its interior?
Very often, premises that are already in operation are renovated and refurbished. However, it also happens that such facilities are practically built from scratch in a separate part of a large shopping and service center. In both cases, suitable and final interior finishes can be achieved after a number of tasks. Below, we list some of the works that are often performed in commercial premises such as shops, salons, restaurants and various retail and service points.
Setting up partition walls or demolishing them
Pouring floors and covering them with tiles, terracotta, carpets or gumolite
Making self-leveling screeds
Putting plaster and gypsum finish coats
Performing electrical, water, sewage, gas and central heating installations
Laying glaze
Installation of sanitary facilities
Inserting windows or doors
Manufacturing of various types of glazing and skylights
Installation of suspended ceilings and panels
Installing outlets, switches and lamps
Impregnation and oiling of wooden floors
Scraping and varnishing of floors
Various painting of walls, ceilings and wooden or metal elements
Decorating the walls
Wallpapering
Fitting the furniture
Making electricity or water connections to specialized devices installed in the premises
Installation of window sills and heaters
As a fully professional company, with the experienced builders we are properly prepared to perform any non-standard orders and works not listed here, but directly related to the renovation of the premises. Our renovation teams, apart from performing strictly construction works related to interior finishing, will also thoroughly clean everything up after themselves.
When should you use the services of a renovation company?
We have already mentioned this in the introduction to this article. It follows that hiring a renovation company to modernize the premises cannot be delayed until the last moment, that is, until the business starts to fail, when the owner loses customers and his income starts to decline. You should carefully observe the technical condition of your premises, its appearance, check what is happening in the industry in the world, observe new trends and carefully watch the competition. Of course, any shortcomings related to the appearance of the premises should be removed on an ongoing basis, and its walls should be painted and restored as often as possible, which can always be helped by a good builders , good renovation team. However, a thorough modernization of the premises should be carried out before the complete depreciation of its equipment and fittings.
Why is it worth using the services of our finishing company?
There are many finishing companies in Eastbourne, but thanks to Juwi Remont you will be sure of the highest quality of work. Therefore, we invite you to use our builders services. We have been operating in the construction industry on the Eastbourne market for many years, which allowed us to gain enormous experience, developed the ability to implement all technical innovations and use modern tools and materials. This, of course, is reflected in our work. We carry out the tasks entrusted to us quickly, cheaply and in strict accordance with the projects and investment plans of our clients. By entrusting us with the current or major renovation of your premises, you can be sure that the downtime in its operation will not be long and it will start to bring income again in a short time. Our builders are simply quick and efficient. The same applies to the construction of a new premises from scratch. As it goes with a fully professional renovation company, we always offer our clients a free valuation of planned works, which does not oblige you to anything.
---